multi carrier shipping software
Centralize and manage all your shipments on a single software!
Expedito Premium is a multi carriers, multi sites and multi senders shipping management software.
Expedito Premium is a shipper TMS, available in SaaS mode, that simplifies, streamlines and centralizes information-sharing between shippers and carriers.
Replace your multiple shipper systems by a single interface.
With its extensive configuration options, Expedito Premium adapts seamlessly to your operational constraints, providing you with logistics support at every step of the shipping process.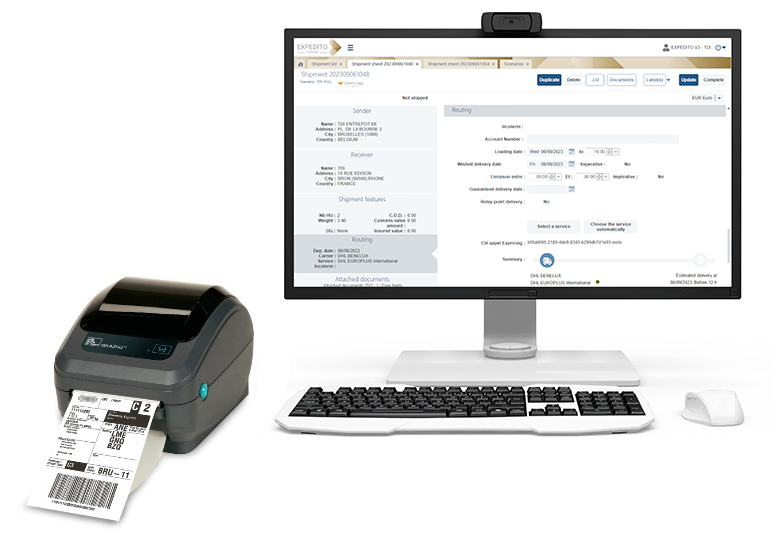 Manage omni-channel logistics with ease
Reverse Logistics
Provide return labels
Centralize all of your shipments
Generate labels from the logistics warehouse or in stores
Ship-from-store
Generate labels directly from the store
Ship from the store
Drop-shipping
Supplier generates labels
Ship directly from the supplier's warehouse
OTHER MODULES
BRANDED TRACKING
AND NOTIFICATIONS
Sending notifications by email
Tracking page customization (LiveTrack)
Notification customization
RIGHT CARRIER
SELECTION
Manage all your tariffs
Control over delivery timelines
Carrier restriction management
Timeline & cost calculator
ALERT ON
DELIVERY ISSUES
Sorting of shipments by risk level
Alert costomization
Automation and scheduling of alerts and notifications
TRACK & TRACE
Collection of tracking events
History of tracking events
Proofs of Delivery (POD) available via URL
DELIVERY KPIS
Transport performance analysis
Customizable graphs
Data export to your SI
Previous
Next