ALERT ON DELIVERY ISSUES
Anticipate delivery delays and increase customer satisfaction!
Detect delivery anomalies early.
Exwarning is an alert plug-in that lets you address delivery issues – such as parcels pending collection or wrong addresses – with your shipments.
Detect delivery delays early, contact your carriers, notify your recipients and boost customer satisfaction. SORTING OF SHIPMENT BY RISK LEVEL
Exwarning assesses all your shipments in transit and highlights anomalies based on customizable risk levels.
Gain in visibility and proactivity by filtering your shipments according to their risk of delay.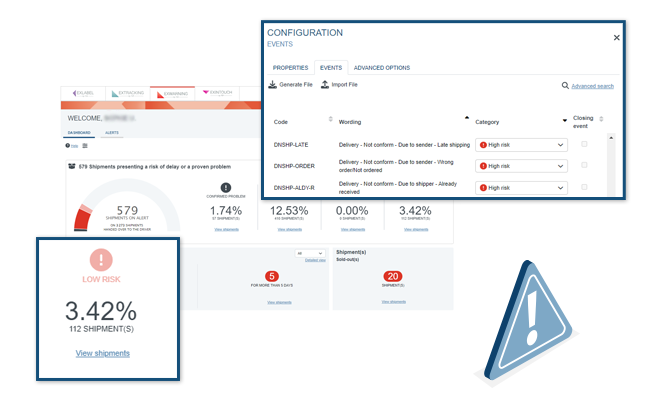 ALERT CUSTOMIZATION
Exwarning allows you to create and adapt alerts according to your needs.
Each notification is defined by its content, triggering conditions, and delivery method.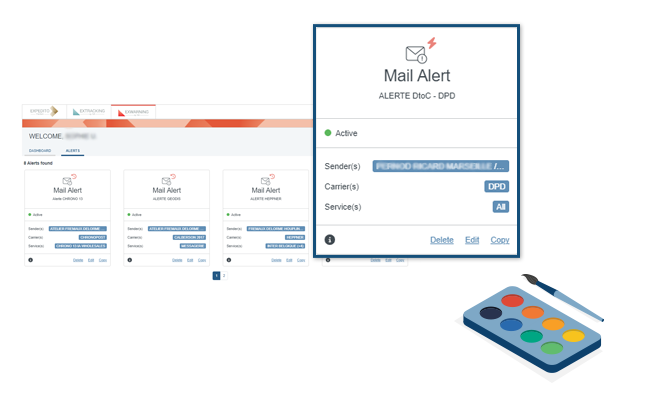 AUTOMATION AND SCHEDULING OF ALERTS AND NOTIFICATIONS
Automate and schedule all your alerts and notifications in advance.
Use alerts to implement suitable and effective preventive or corrective actions.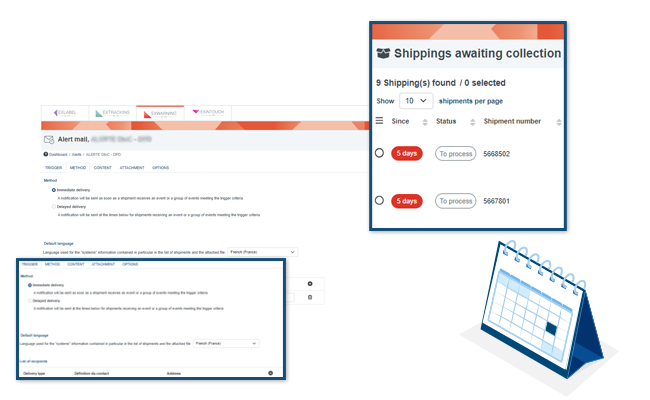 OTHER MODULES
RIGHT CARRIER
SELECTION
Manage all your tariffs
Control over delivery timelines
Carrier restriction management
Timeline & cost calculator
DELIVERY KPIS
Transport performance analysis
Customizable graphs
Data export to your SI
BRANDED TRACKING
AND NOTIFICATIONS
Sending notifications by email
Tracking page customization (LiveTrack)
Notification customization
MULTI CARRIER
SHIPPING SOFTWARE
Integration of shipping information
Shipment consolidation
Generating labels & shipping documents
Delivery adress checks
TRACK & TRACE
Collection of tracking events
History of tracking events
Proofs of Delivery (POD) available via URL
CERTIFIED
CARRIER LABELS
Generating certified labels
Generating transport documents (delivery notes, CN23, etc.)
File exchange with carriers via EDI
Previous
Next