TRACK & TRACE
Follow the shipment progress of all your deliveries using a single tool!
Track all your shipments in a single interface.
Extracking is a plug-in that lets you easily and seamlessly track parcels for any integrated carrier. COLLECTION OF TRACKING EVENTS
Extracking gathers all EDI (Electronic Data Interchange) files containing your shipments' tracking information from your carriers' systems and transmits them to yours.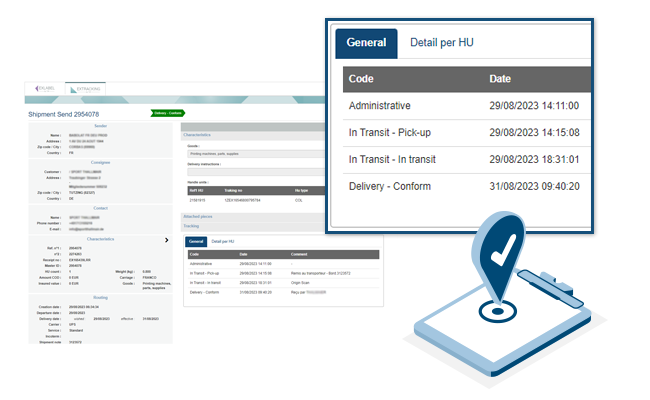 prooFS of delivery (POD) AVAILABLE via URL
After your shipment has been successfully delivered, Extracking provides you with all the POD (Proofs Of Delivery) issued by carriers.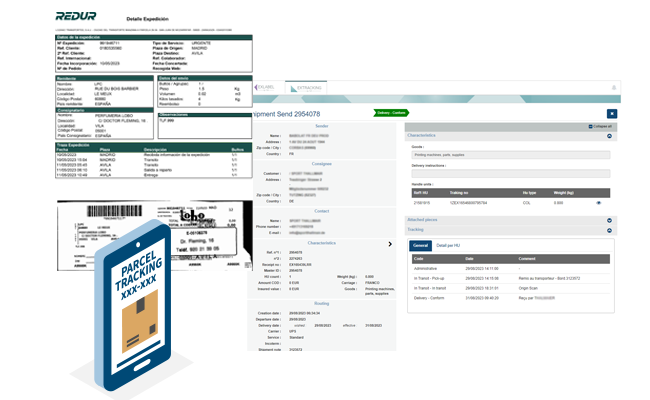 History of tracking events
Retrieve all tracking events for each shipment and trace your shipments' routes.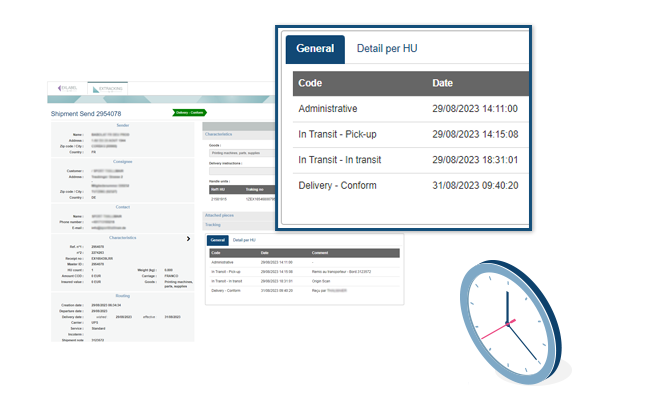 OTHER MODULES
BRANDED TRACKING
AND NOTIFICATIONS
Sending notifications by email
Tracking page customization (LiveTrack)
Notification customization
CERTIFIED
CARRIER LABELS
Generating certified labels
Generating transport documents (delivery notes, CN23, etc.)
File exchange with carriers via EDI
DELIVERY KPIS
Transport performance analysis
Customizable graphs
Data export to your SI
ALERT ON
DELIVERY ISSUES
Sorting of shipments by risk level
Alert costomization
Automation and scheduling of alerts and notifications
MULTI CARRIER
SHIPPING SOFTWARE
Integration of shipping information
Shipment consolidation
Generating labels & shipping documents
Delivery adress checks
RIGHT CARRIER
SELECTION
Manage all your tariffs
Control over delivery timelines
Carrier restriction management
Timeline & cost calculator
Previous
Next